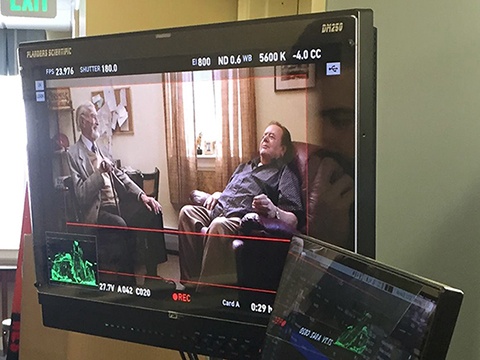 A milestone of sorts was recently set on the north shore of Boston.
The feature film The Last Poker Game, starring Martin Landau (Mission Impossible) and Paul Sorvino (Goodfellas), has wrapped its' principle photography. What makes this a milestone is that the film was shot with nothing more than a Honda EU6500is generator. This is notable because The Last Poker Game is no low budget indie.
The film was produced by seasoned producers Peter Pastorelli, Marshall Johnson, and Eddie Rubin. Pastorelli's credits include the Netflix film Beasts Of No Nation (which he produced alongside Johnson) and The Disappearance Of Eleanor Rigby (starring James McAvoy and Jessica Chastain). Johnson's other credits include Blue Valentine and The Place Beyond The Pines with Ryan Gosling; Rubin's credits include Love And Honor.
Given the light sensitivity of the Red that they were shooting on, the production was able to get away with nothing more than one of our modified Honda EU6500is generators. The principle location for the movie was a sprawling new assisted living facility in Newburyport MA. Because the facility is only at 60% occupancy the production was able to secure a whole wing of the facility.This was an ideal location - except that the loading dock where they could operate a generator was on the other side of the complex.
To compensate for the drop in voltage over the long cable run, the production used one of our proprietary HD Plug-n-Play Transformer/Distros that enable you to step up voltage in 5% increments. This feature enabled them to maintain full line level even after running out 300' of cable between the generator and set. From the Transformer/Distro on set the crew ran out 60A Bates extensions through out the wing, breaking out to 20A pockets wherever they needed.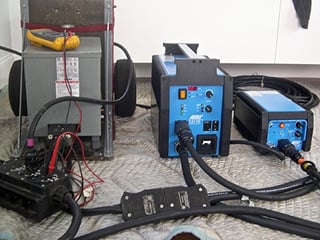 This way they could run up to three 1.8kw Arri M80s - or a 4kw M40 when they needed a bigger source - without having to worry about tripping breakers. With ARRIMAX reflectors, these heads were plenty big enough to light scenes in the day room, dinning area, and lounge of the residence wing, everything else they could plug into the wall.
Using a small portable generator allowed the production to save money by building out rental box trucks to serve as their electric and grip trucks, since the trucks didn't need to tow a diesel tow plant. This proved to be advantageous when the production went out on location in the streets of Newburyport. An old port city on the north shore of Boston, Newburyport is a warren of narrow streets through which it would have been difficult to tow a diesel generator.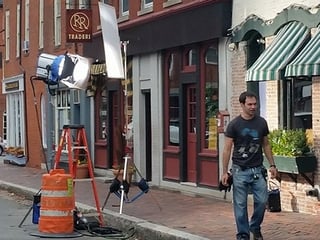 The Last Poker Game is, as far as we know, the first major film to take advantage of the combination of improved camera imaging, more efficient light sources, and Honda generators customized for motion picture production.
Need equipment for an upcoming production?